The Ultimate Paros Nightlife Guide (2023)
Are you wondering is Paros a party island? If you want to know everything about Paros nightlife before booking your holiday, you came to the right place!
I spent quite some time in Paros, and it is my favorite island in the Cyclades. The island is so versatile and has something for every type of traveler, from lively beach clubs to hiking and exploring quaint villages.
Paros first came under my radar as a cheaper alternative to Mykonos, with Naousa being just like Mykonos Little Venice. But, it turned out there are so much more fun places to discover on the island!
If you want to know more about nightlife in Paros Greece, let's jump right in!
Disclaimer: This post may contain affiliate links, which means I may receive a commission, at no extra cost to you, if you make a purchase through a link. I hope you find the information here helpful!
Is Paros a party island?
The simple answer is, no Paros is not a party island, but you can definitely party on Paros.
What does that mean?
While there are plenty of opportunities to enjoy Paros nightlife, it is just one of many things to do in Paros.
In fact, nightlife in Paros is mainly concentrated in two villages – Naoussa and Parikia, while the rest of the island is rather calm apart from beach clubs during the day.
Naoussa and Parikia nightlife is fantastic, making Paros a must-stop for nightlife on your Cyclades island hopping itinerary.
But, is Parikia or Naoussa nightlife better? That depends on what you're looking for, as they offer a different experience!
It's good to know that most places are only open during the high season. Most clubs open in June and close in September, so you should check their social media to know what to expect if you visit Paros in the off-season.
Even Naxos locals take day trips from Naxos, or better say night trips, on Fridays and Saturdays to enjoy nightlife in Paros.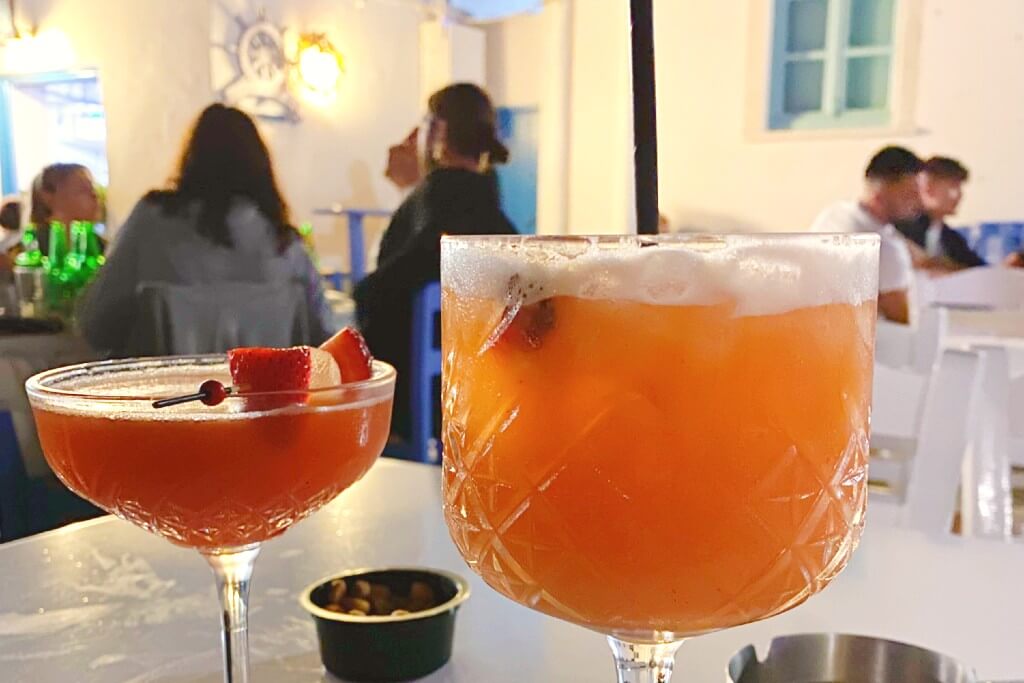 Naoussa Paros Nightlife
Naoussa nightlife is what gave Paros party island reputation.
However, Naoussa is not like Ibiza or Albufeira party destination. Not even close!
So, what does Naoussa nightlife look like?
Nightlife in Naoussa is mostly cocktail lounge bars and clubs, with several nightclubs sprinkled in. Naoussa is said to have the best Nightlife in Paros. However, there's not much dancing in Naoussa unless you go to a nightclub. People generally sit and enjoy their cocktails and music.
If you're visiting Paros in summer, you'll have to get a reservation to enter nightclubs if you don't want to wait in line for an hour to get in.
Best Naoussa clubs and bars
Kosmos is one of the best cocktail bars in Paros. It is located in the city center of Naoussa, with charming tables along the cobblestone street. Their barmen are true cocktail masters, and the menu is filled with original and delicious cocktails.
Fotis is a small seafront bar next to Naoussa Old Port. It is one of those places that look like they could be on Mykonos. It is open all day, so you can grab a refreshing cocktail or quick meal throughout the day.
Linardo is one of the best-known Paros cocktail bars thanks to its recognizable pink door and bougainvillea tree decoration. The bar gets quite busy in the high season, so you might have to pay for entrance drink tokens.
It feels like all of these bars share a terrace, and if you're sitting outside it won't make much difference. The atmosphere is incredible, and they are great for sunset drinks. Once you're there you can pick the one with the best music that night. They are all good!
This cocktail bar, set in a charming courtyard under a large eucalyptus tree, is one of the locals' favorites. The cocktails are delicious and beautifully presented, and you get to choose from a long list of cocktails they skilfully make.
Located right in Naoussa Old Port, Salty Cocktail Bar is a nice spot to enjoy a cocktail with an incredible view.
Monkey is a great place to grab a drink and chat after a day of exploring the island. It is right in the city center, so the atmosphere is always good.
Another cocktail bar in the beautiful setting on Paros Little Venice. It is a good option for Happy hour, as the cocktails are quite affordably priced, however, it is not the best Naoussa has to offer.
Akanthus is the only real nightclub in Naoussa, and it is expectedly always busy. You'll probably have to wait in line for quite a while, so either come early or be ready to wait. There's an entrance fee.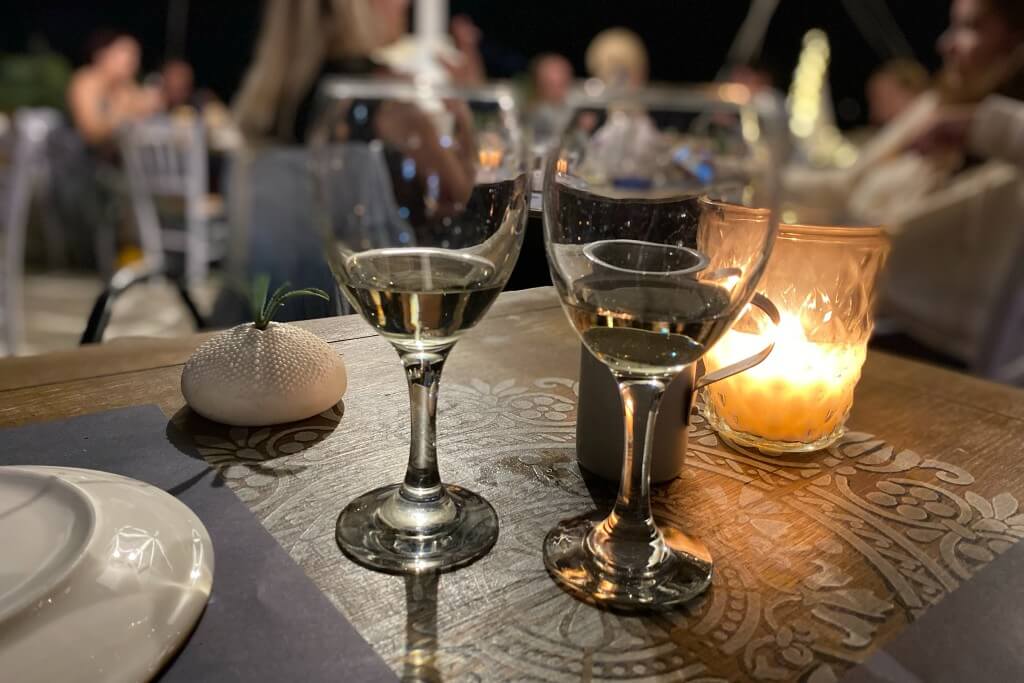 Parikia Paros Nightlife
Parikia is Paros capital and a place where most locals live. It is a more relaxed place when it comes to nightlife, compared to Naoussa.
There are many bars to choose from, and it is where you'll find locals, backpackers, and holidaymakers hanging out.
Best clubs and bars in Parikia
Evinos is one of the best places to enjoy a sunset cocktail in Parikia. This charming cocktail bar is one of the nicest spots in Pariakia, and they offer a large choice of delicious cocktails.
The Dubliner Irish pub is one of the most popular places in Parikia. It is not exactly a pub, it is more of a club with 3 different stages and music genres playing. You have to pay an entrance fee, but you get a drink in exchange.
Located in the heart of Parikia, the outside seats of Sativa Music Bar is the perfect place to enjoy a drink and observe the nightlife in Paros. One of their specialties is Mastijito (Mastiha Mojito)!
This bar is located in the city center of Parikia, with inside and outside seating. It is perfect for people-watching as you're enjoying your drink. Their cocktails are beautifully presented, and the atmosphere is relaxing.
Bebop is a rooftop bar in Paros with incredible sunset views. It is one of the nicest spots in Parikia, with lounge club vibes and chill music. The place is popular for cocktails, but you can also grab a light meal.
Another option for sunset drinks and light meals is Nemobar. This seafront bar has seating next to the sea and under a lush green vine roof.
Paros Beach Clubs
Paros is an island with amazing beaches. Naturally, that made me wonder what are beach clubs in Paros like.
I'm glad to report that beach bar lovers are going to love Paros!
There are so many to choose from, and nearly every beach on the island has a beach club or a lounge bar of some sort to grab a drink, have a light lunch, or even party!
I have a whole article on beach clubs in Paros, for those who like beach parties, but here are some of the best beach bars Paros has to offer.
Punda on the east coast of Paros is the most popular beach bar in Paros. DJ plays live music, and these beach parties in Paros get quite lively. There is a saltwater swimming pool in the middle of the bar, so you be in the water and still enjoy the music.
Rebel is not a party beach bar, but a nice spot to grab a cocktail and enjoy a day on the beach. You can also grab a quick lunch, and they have vegan options as well!
Paros Boat Party
Going on a party boat is one of the most fun things you can do when backpacking Europe in summer!
While Paros doesn't have a designated party boat, the next best thing is going on a sailing tour around the island with drinks included.
Boat tours from Paros are a great way to discover beaches away from the crowds and have fun at the same time.
This full-day sailing cruise will take you to the islands of Iraklia and Schinoussa, stopping along for swim breaks and snorkeling on secluded beaches. Delicious lunch and local wine are included, and you'll get fruits and a dessert on the way back.
Discover the nearby islands and hidden coves on this popular full-day cruise with a barbecue. Swim in the crystal clear sea before enjoying a delicious homemade lunch with typical Greek dishes and drinks on tap.
This boat tour is special, as you get to sail in a traditional boat, which makes for a unique atmosphere. The boat is large, so it's great for friend groups or solo travelers! You'll get to sail to remote beaches, snorkel, and have drinks and snacks on board, included in the price.
This boat tour will take you to the islands of Antiparos and Despotiko for a semi-private cruise of some of the most picturesque places around Paros. You'll get to water activities like snorkeling, kayaking, and cliff jumping. Lunch and drinks are included!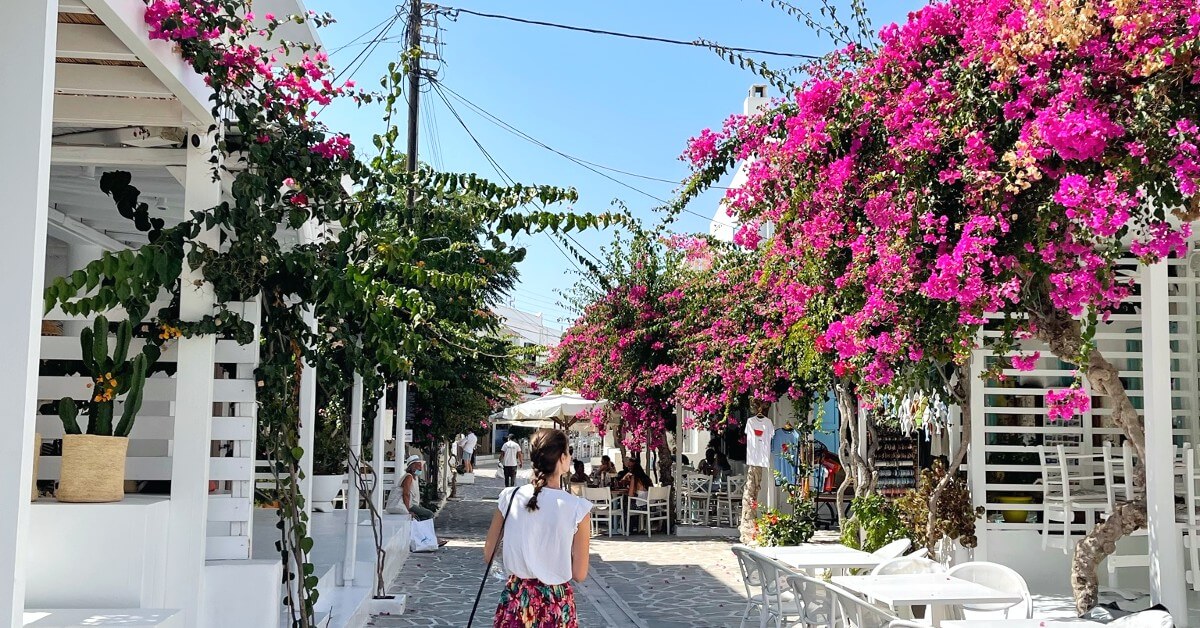 Antiparos Nightlife
If you're visiting Paros you might wonder what is nightlife in Antiparos like.
Despite being known as a quiet island, there's quite some entertainment to be found in Antiparos! If you like dancing, you might enjoy nights out in Antiparos more than Paros island nightlife.
Vintage is where you should go if you want to relax and enjoy a delicious cocktail in a cozy atmosphere. They serve the best cocktails on the island! Their drinks are unique and creative, and skillfully blended.
This is the best place to grab a drink and see where the night takes you. They start as a cocktail bar, and as the night progress, they start playing party music. The whole square turns into a party place, so you might as well grab a drink in other bars like The Lime Bar or Tabula Rasa.
Dancing Club Mill is where to go if you want to dance. When the bars in the city center close, this is where everybody is heading. There is an entrance fee, but it usually includes a drink. It is a great place to dance until the morning, as it is open until 6 am!
La Luna is a nightclub situated right next to the camp, perfect for those camping on Antiparos. It is one of the oldest nightclubs in the area, with a disco ball and proper dance floor in the center where everybody dances.
Hora Club is a newer nightclub on the island, open until the early morning hours. This open-air nightclub is a place to dance all night long.
This small bar in the city center of Antiparos is a great place for those nights when you want to grab a drink and see what happens. It starts as a bar and turns into a dancing spot around 2 am.
Paros Nightlife Dress Code
The dress code for nightlife in Paros is pretty relaxed, nobody expects you to wear high heels or a bodycon dress. In fact, I don't suggest bringing high heels at all when packing for the Cyclades with all the cobblestones!
However, most people dress up and you'll notice it differs whether you party in Naoussa or Paros.
Naoussa is a more upscale party destination, with several classy lounge bars. People dress to impress in Naoussa. Think silky dresses or pants and statement jewelry.
If you're going out in Naoussa, I suggest you pack at least one nice outfit if you don't want to stand out as somebody who's backpacking in Paros.
Nothing wrong with looking like a backpacker because I totally did! I just felt a bit out of place in shorts and sneakers, with everyone around me in silky dresses, flashy jewelry, and nice sandals.
Parikia, on the other hand, is completely chill! You can wear whatever you want, and you'll blend right in.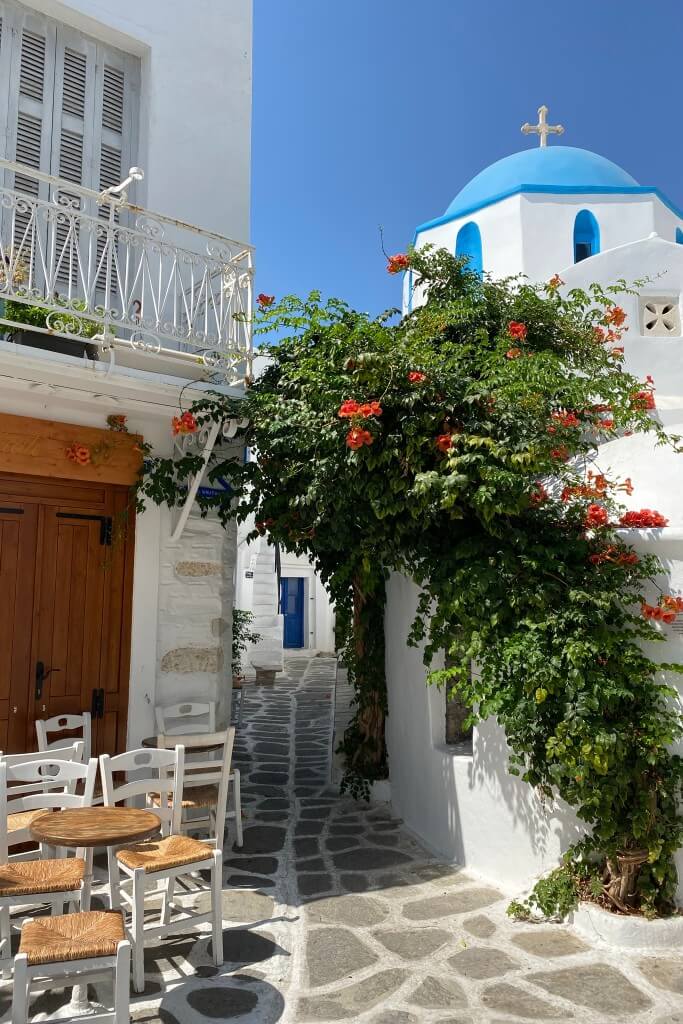 Is nightlife in Paros Greece expensive?
Paros often come up as a budget-friendly alternative to Mykonos. But is Paros cheap and how much should you budget for nights out?
On average, these are prices you can expect in Paros:
Nightclub entry: 10-15€ (usually includes a welcome drink)
Cocktails: 10-15€ (Happy hour around 7-8€)
Tap beer: around 4€
Drinks in beach bars: around 10€
Where To Stay In Paros For Nightlife?
When deciding where to stay in Paros, you'll basically have to choose between Parikia or Naoussa.
If you like Naoussa nightlife vibes, upscale cocktail bars, candle-lit lounge bars, and fine dining, it is best to stay in Naoussa.
Those who prefer Parikia nights out, with lively pubs and local spots that start as a bar and end up as a dancefloor, should stay in Parikia.
You'll find Paros nightclubs in both towns, so it depends on what kind of nightlife you prefer.
Staying in a hostel is the best way to meet people and solve the problem of going out alone as a woman.
The island is small, but public transport doesn't run at night. So if you go out in a town you're not staying in, you'll have to come in your vehicle or grab a taxi. Taxis around Paros can get pricey, as there is a limited supply on the island.
FAQ
Does Paros have good nightlife?
Yes, Paros has good nightlife. It is one of the most popular places to party in Greece in the summer. The most well-known places are in Naoussa, with popular seafront lounge bars, but you'll find many clubs in Parikia too. You can also enjoy beach parties at one of the many beach clubs in Paros.
Is Paros better than Mykonos?
Paros is better than Mykonos if you want to enjoy the nightlife on a budget. You'll find the same aesthetic of seafront lounge bars in Naoussa as in Little Venice in Mykonos. Yet, with more affordable prices and fewer crowds.
What is the vibe in Paros?
The vibe in Paros depends on which part of the island you go to. Naoussa is a place with a luxurious, upscale vibe with cocktail bars and fine dining. Parikia is more relaxed, with plenty of local spots to discover and enjoy after a day on the beach.
Is Paros very touristy?
Paros is not as touristy as Santorini or Mykonos. However, it is quickly becoming one of the most popular Cyclades to visit. It is lively, without being crowded, and you can still find hidden places and tranquil corners to enjoy and relax away from the crowds.
Final Thoughts: Paros Nightlife
The best thing about Paros is that it offers something for every type of traveler.
Paros nightlife ranges from upscale lounge bars in Naoussa, where everybody is dressed to the nines, to casual pubs where people come for a beer straight from the beach.
Paros is a small island, and it is easy to get around but remember that buses don't run the whole night if you need to get back from Naoussa to Parikia.
To make the most of your stay, plan a night in each town on your Paros itinerary and enjoy the best nightlife in Paros!