9 Best Paros Day Trips To Add To Your Itinerary (2023)
Are you planning a trip to the Cyclades and wondering what Paros day trips to add to your itinerary? You came to the right place!
I went on a self-organized island-hopping tour of the Cyclades and spent quite some time in Paros. I absolutely loved the laid-back vibes and the island living atmosphere of Paros.
Paros is one of the cheapest Cyclades islands, so it is a great spot to choose as a base for exploring other islands. At the same time, it is a lively island with plenty of things to do and tours to join, so you won't feel like you're on a desert island.
Whether you're looking for day trips from Paros to other islands or day trips around the island, you'll have plenty of options.
Let's get started with the best day trips from Paros that should be on your radar for your next holidays!
Disclaimer: This post may contain affiliate links, which means I may receive a commission, at no extra cost to you, if you make a purchase through a link. I hope you find the information here helpful!
Best day trips from Paros to other islands
If you want to add a day trip from Paros to other islands to your Paros itinerary, you'll be glad to know the island is well connected by a ferry network.
You can easily organize a day trip yourself by booking a ferry in the morning and returning in the evening to enjoy nightlife in Paros.
Otherwise, you can join a tour to visit the islands further away or not well-served by ferries.
Another fun idea is going on Paros boat trips, as it is a perfect opportunity to experience sailing the Cyclades without commiting to a multiple day sailing trip.
1. Day trip from Paros to Santorini
Santorini doesn't need an introduction. The best known among the Cyclades islands, Santorini is the number one destination on countless travel bucket lists.
I visited Santorini on two separate occasions, once on a day trip and once I spent 4 days on the island. The biggest downside of Santorini is that it is hard to visit Santorini on a budget, especially during the high season.
That's why a day trip to Santorini from Paros is the perfect alternative!
So, what to do on the Santorini day trip?
With just one day in Santorini, you will have enough time to see the main attractions and maybe take a dip on one of Santorini's unique beaches.
Visit the picturesque cliffside villages of Oia and Fira, with their typical Cycladic white-washed houses and blue domes.
Make sure to grab an ice cream at Zotos Ice cream shop in Fira. They serve the best ice cream I've had in the whole of the Cyclades.
If you have time for a swim, Perissa's volcanic black sand beach is among the most unique beaches in Greece.
How to get to Santorini from Paros?
While there is a ferry from Paros to Santorini that takes about 1h30min between the islands, it is not the best option for a day trip.
When you look at the ferry schedule, you'll see that the last ferry from Santorini to Paros is at 15:30 (unless you're lucky and they added more departure times!). Even if you take the earliest ferry to Santorini, you'd only have about 3h on the island before rushing back to the port.
Alternatively, you can join a Paros to Santorini tour!
The benefits of joining a tour far exceed a small difference in the price of organizing a day trip yourself.
This tour includes a transfer from your hotel to Piso Livadi port, a return boat trip, and a bus transfer in Santorini to Oia and Fira.
You're free to spend the time in Santorini how you want, so you're basically paying for the comfort of an organized boat tour. With chaotic ferry travel in the Cyclades, it is well worth it!
🛥️Check availability and rates for Santorini Full-Day Boat Trip From Paros!
2. Day trip from Paros to Naxos
Naxos is an island located directly across from Paros, and many people debate should you visit Paros or Naxos.
But you can easily visit both by taking a day trip to Naxos from Paros by ferry. It is one of the less visited Greek islands, but it is well worth the visit!
The ferry will leave you in Chora, Naxos capital.
Head straight to the Temple of Apollo, the most iconic landmark in Naxos, constructed 2500 years ago. Stroll the winding cobblestone streets of Chora and visit the ruins of the Venetian Castle (Kastro).
Naxos is well known as the island with the best beaches in the Cyclades. Even as somebody who is not the biggest fan of sandy beaches, long white sand Naxos beaches were a dream.
Since Naxos is the biggest island in the Cyclades, it is hard to see all the highlights in a day without a car.
With a car, you get to see the Temple of Demeter, Kouros of Apollonas statues, and the mountain villages of Filoti, Apiranthos, and Halki.
Ideally, you would rent a car in Paros and take it on a ferry, or rent a car for a day in Naxos.
I rented a car for a day in Naxos, and it worked out perfectly to see the mountain villages and attractions in the center of the island.
🚗 Check rental car prices here!
How to get to Naxos from Paros?
It is easy to visit Naxos on a self-organized trip as there are plenty of ferries from Paros to Naxos and the other way around.
I suggest you go for the cheapest ferry company, usually Blue Star Ferries, as the 15-minute difference with the "express lines" is not worth the price difference. You'll find all ferries on Ferryhopper, which I use to book ferries in Greece.
If you're traveling in the summer there should be a morning ferry to go, and a late afternoon ferry (even late night one on the weekends!) to return to Paros.
🚢 Check ferry departure times and prices here!
3. Paros to Antiparos day trip
Antiparos is the most popular day trip from Paros. This small island is located just 2km from Paros and is easy to reach by ferry from Paros.
You don't need a car for a day trip to Antiparos, but it might be a fun idea to rent a bike. Antiparos is a lot calmer than Paros, and there is not much traffic on the island.
Chora of Antiparos is dotted with picturesque cafes and unique boutiques. There are a few small churches to visit around the island and the ruins of the Venetian Castle of Antiparos.
If you want to visit Antiparos Cave, the largest cave of the Cyclades, you'll need some kind of vehicle as it is located 8km from the port.
Paros has a couple of nice beaches to spend the rest of your day swimming and enjoying the sun. The best spot to watch the sunset on Antiparos is above the Sifneiko beach.
How to get to Antiparos from Paros?
You don't need a tour to visit Antiparos, as it is quite affordable and easy to self-organize a day trip from Paros so it is a great option if you're visiting Paros on a budget.
Take a bus to Pounta and board a quick 5-minute ferry to Antiparos. You'll buy a ticket on board as you get on the ferry.
Alternatively, you can take a passenger-only ferry from Parikia Port, running during the summer months.
Check the full Antiparos ferry schedule here.
If you prefer a sailing trip and want to discover hard to reach and hidden beaches of Antiparos, consider joining a sailing tour of Antiparos in a traditional boat!
This tour departs from Parikia port and takes you on an adventure along the coast of Antiparos and Despotiko.
🛶Check availability and rates for Round of Antiparos & Despotiko with a traditional boat!
4. Paros to Delos day trip
If you like Greek mythology, you must've heard of Delos. And it is a real island that you can visit and a UNESCO World Heritage site!
If you're wondering if is Delos worth visiting at all, if you're a history lover it sure is!
Delos is considered the most sacred of Greek islands, and according to Greek mythology, it is the birthplace of the gods: Apollo and Artemis.
The whole island of Delos is an archeological site, so wherever you look you'll see history. Head straight to Delos archeological site, and explore numerous temples, theaters, and houses.
If you like a good view, and you know I do, climb Mount Kynthos. It's quite steep and takes about 15 minutes, but the views over the islands and the region are amazing!
How to get to Delos from Paros?
There is no regular ferry line from Paros to Delos, so you'll have to join a tour to visit this historical island.
This day Cruise from Paros to Delos and Mykonos combines a visit to Delos and Mykonos, so you get to see two iconic spots in the Cyclades in one day. It is not a guided tour, so you're free to discover on your own.
The tour departs from the upscale fishing village of Naoussa, which is perfect if you're staying in the area.
🏛️Check rates and availability of the Cruise from Paros to Delos and Mykonos!
5. Paros to Mykonos day trip
Mykonos is best known for its nightlife as the party center of the Cyclades, with younger crowds – ideal if you're backpacking the Cyclades. However, there is more than just partying on Mykonos!
The Little Venice of Mykonos is one of the must-see places in the Cyclades. This picturesque seaside neighborhood was modeled after Venice, Italy, so the houses are different than the usual Cycladic aesthetic.
With its numerous bars and restaurants, Little Venice is one of the best spots to watch the sunset on Mykonos!
Nowadays, Mykonos Windmills are a tourist attraction. However, they used to be crucial for wheat production that Mykonos was known for throughout history.
Another landmark to visit is the Church of Panagia Paraportiani.
How to get to Mykonos from Paros?
It is possible to visit Mykonos from Paros by ferry, without joining a tour. The ferry journey takes just under an hour, and in summer there is a ferry in the morning to go and a late afternoon to return.
However, express ferry lines end up being more expensive than joining a tour to Mykonos!
This Day Trip to Mykonos from Paros includes a transfer to the port and a return boat ticket.
Once you're in Mykonos, you have about 6h of free time to explore the island, so it doesn't feel like an organized tour since you're free to do what you want!
🏘️Check rates and availability for Paros to Mykonos day trip here!
6. Paros to Koufonisia day trip (Small Cyclades)
If you're wondering what are the Small Cyclades, don't worry, you're not the only one. This group of islands, situated between Naxos and Amorgos, is one of the Cyclades' best-kept secrets.
This island group consists of multiple uninhabited islands and 4 inhabited islands, considered Greece's smallest inhabited islands. Those 4 islands are Iraklia, Schinousa, Koufonisia, and Donousa.
Going on a sailing tour of the Small Cyclades is the best way to enjoy these beautiful and calm islands.
How to get to Koufonisia from Paros?
The easiest way to get to Koufonisia and Small Cyclades on a day trip from Paros is to join a sailing cruise.
While there are ferry lines from Paros to Koufonisia, the departure times are not the best for a day trip.
Instead, save yourself the time and stress of organizing a day trip to Koufonisia, and join a tour to Koufonisia by traditional Kaiki.
This full day sailing tour takes you from Paros to discover the Small Cyclades, including multiple stops around Koufonisia.
⛵ Check the rates and availability of Koufonisia by traditional Kaiki from Paros tour here!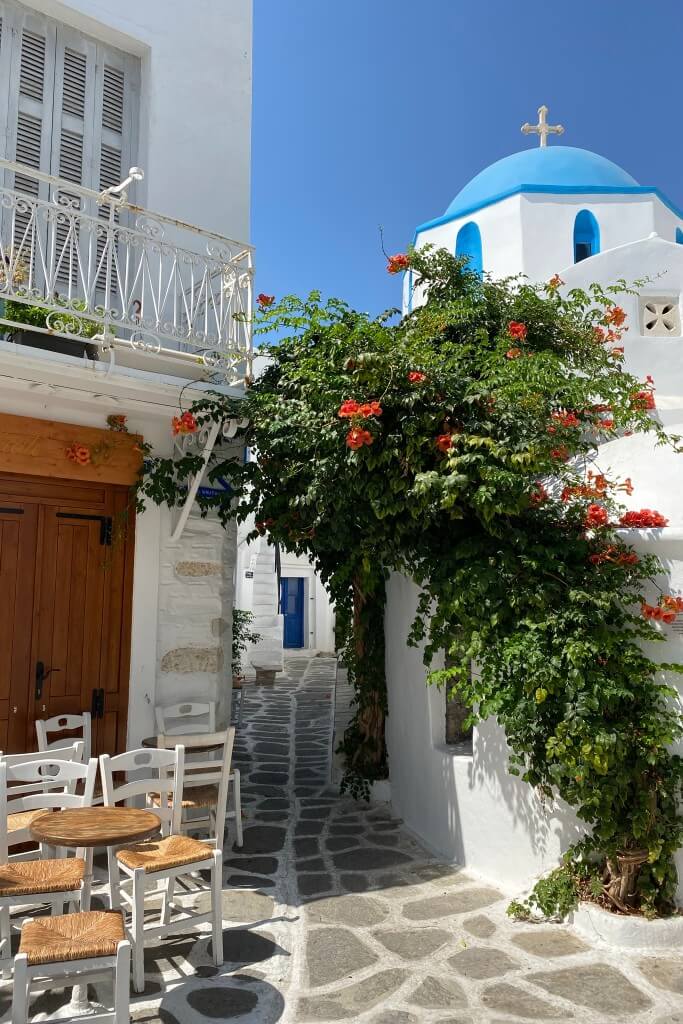 Best Paros day trips on the island
If you're not interested in day trips from Paros to other islands, because you'll visit them later on your Cyclades itinerary, there are many places to discover on Paros island.
You don't need a car in Paros, but it is easier to get around the island if you have one and don't depends on the bus schedule.
7. Day trip to Lefkes
The mountain village of Lefkes is one of the most picturesque places in Paros. It was once the capital of Paros before Parikia replaced it.
There are no specific tourist attractions to see in Lefkes, but it is a lovely village to stroll the beautiful alleys and admire the contrast of pink bougainvillea trees and whitewashed houses.
You can visit the whole village in less than an hour, find a spot for lunch or continue down the Byzantine trail.
How to get to Lefkes?
Lefkes is located about 10km from Parikia, and it takes about 15min to reach by car.
If you're using public transport you can easily reach Lefkes from Naoussa or Parikia, but it will be easier if you stay in Parikia as it is the central bus station.
Check the Paros bus schedule to plan your trip, their website is reliable and updated!
8. Byzantine Road Hike
The mountainous interior of Paros Island is perfect for hiking lovers. There are many interesting hiking spots around the island, but the Byzantine Road is the oldest trail on the island!
This marble-paved trail dates back to the Byzantine era, and it is quite special to walk on it to this day!
The hike is about 3.5km long and not very challenging, as it is mostly downhill from Lefkes to Promodos.
You can stop in Promodos, or make your way to the picturesque village of Marpissa. Both are great places to relax and grab a drink or a traditional Greek lunch.
How to get to Byzantine Road?
The Byzantine Road hike starts in Lefkes and ends in Promodos.
Both cities are served by bus from Parikia, so you don't have to go back to the starting point. Make sure to check the bus schedule to plan the trip accordingly.
9. Sailing day tour from Paros
Sometimes, you don't want to go sightseeing, you just want to spend a day relaxing on a boat, away from the crowds.
If that's you, then this Full-Day Sailing Yacht Cruise is for you!
Spend a day on board a modern yacht, sailing around the Small Cyclades Islands with a small group of people.
This tour features plenty of swimming stops along the way, so you'll get to swim in the crystal clear sea, and discover hidden coves and beaches that can only be accessed from the sea.
The tour includes three island stops: Iraklia, Schinoussa or Koufonisia, and Naxos.
You don't have to worry about food and drinks, as they are included in the ticket. The crew will prepare lunch, and you'll get fruit to snack on throughout the day.
⛵Check rates and availability of the Full-Day Sailing Yacht Cruise from Paros!
FAQ
Can you take a day trip from Paros to Santorini?
Yes, you can take a day trip from Paros to Santorini. However, ferry departure times are not the best for a day trip, so you'll want to join a private tour from Paros to Santorini. Multiple operators offer Santorini tours from Paros during the summer.
Can you do a day trip to Milos from Paros?
No, unless you have a private boat, you can't do a day trip to Milos from Paros. The ferries connecting the two islands are not direct, and it takes too long from one to the other to make it a day trip. The only way you could visit Milos on a day trip from Paros would be on a private tour.
How many ports are in Paros?
Paros has only one main ferry port, and it is in Parikia, the island's capital. Another secondary ferry port is located in Pounta, and it only serves a ferry from Paros to Antiparos. However, Paros has two additional ports out of which local tour boats operate: Piso Livadi Port and Naoussa Port.
Summary: Best day trips from Paros
And there you have it! The best Paros day trips that you need to take to explore the Cyclades.
With these day trips from Paros island, you have so many things to do in Paros that you could easily spend your whole summer holiday in Paros exploring the Cyclades.
From the upscale bar and restaurants of Mykonos to the untouched nature of the Small Cyclades, you can experience a completely different day, depending on your mood.