17 Best Things To Do In Faro Without A Car (2023)
Are you looking for the best things to do in Faro without a car? You came to the right place!
Maybe you found a cheap flight to Faro but don't know what to do around here or whether is Faro worth visiting at all. This Faro backpacking guide will solve all your dillemas!
I decided to spend a few days in Faro on my recent trip backpacking Algarve, and it is quite a charming little town!
Faro is ideally located and well-connected to take day trips in the region. With many backpacker-friendly hostels, it is a great place to base yourself to explore Algarve and certainly worth spending at least one day in Faro on your backpacking Portugal trip.
If you're ready to add some fun activities to your backpacking Faro itinerary, let's jump right in!
Disclaimer: This post may contain affiliate links, which means I may receive a commission, at no extra cost to you, if you make a purchase through a link. I hope you find the information here helpful!
Best things to do in Faro, Portugal, without a car
1. Find picturesque entrances to Old Town
Faro has a charming Old Town hidden behind the old city walls. Most of the wall didn't survive to this day, but you can still see its remains and walk through the old entrances.
Arco da Vila and Arco do Repouso are both Faro must-see.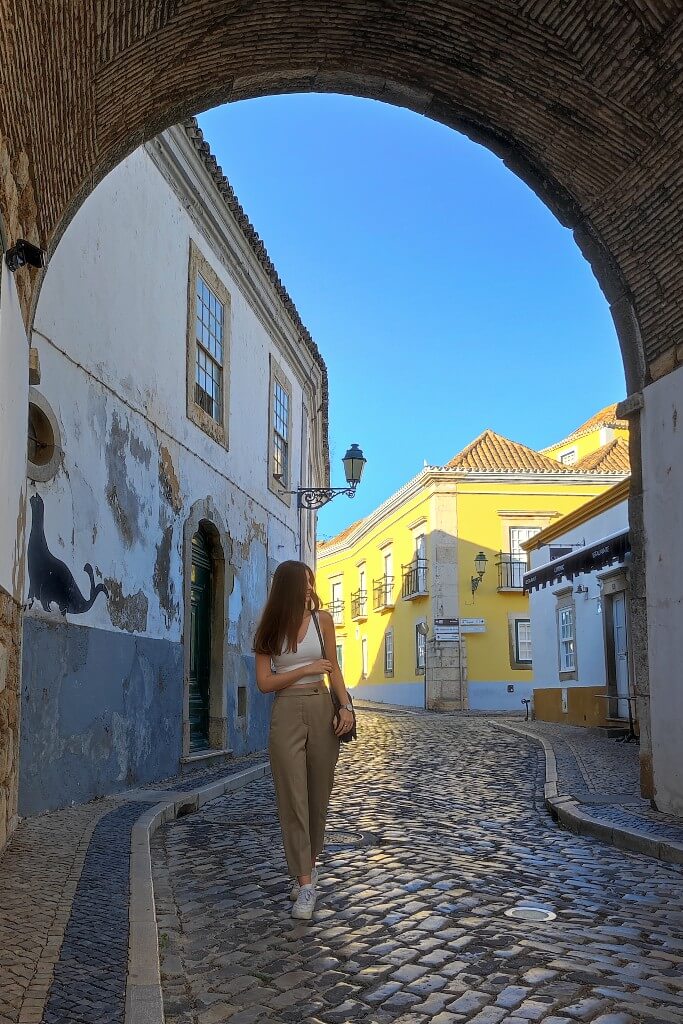 2. Explore Cidade Velha inside the city walls
Exploring the cobblestone streets of the Old Town is one of the best free things to do in Faro.
You can see the remains of the old Moorish walls on the west side of the city center, next to Arco do Repouso.
The Old town of Faro feels like a maze, with many narrow, cobblestone streets and picturesque corners.
3. See Sé de Faro Cathedral
Faro Cathedral square is one of the most picturesque spots in Faro. This large cobblestone square is lined with orange trees, and it is especially charming in winter when the fruit is bright orange.
You can climb the Cathedral tower for a panoramic view of the city!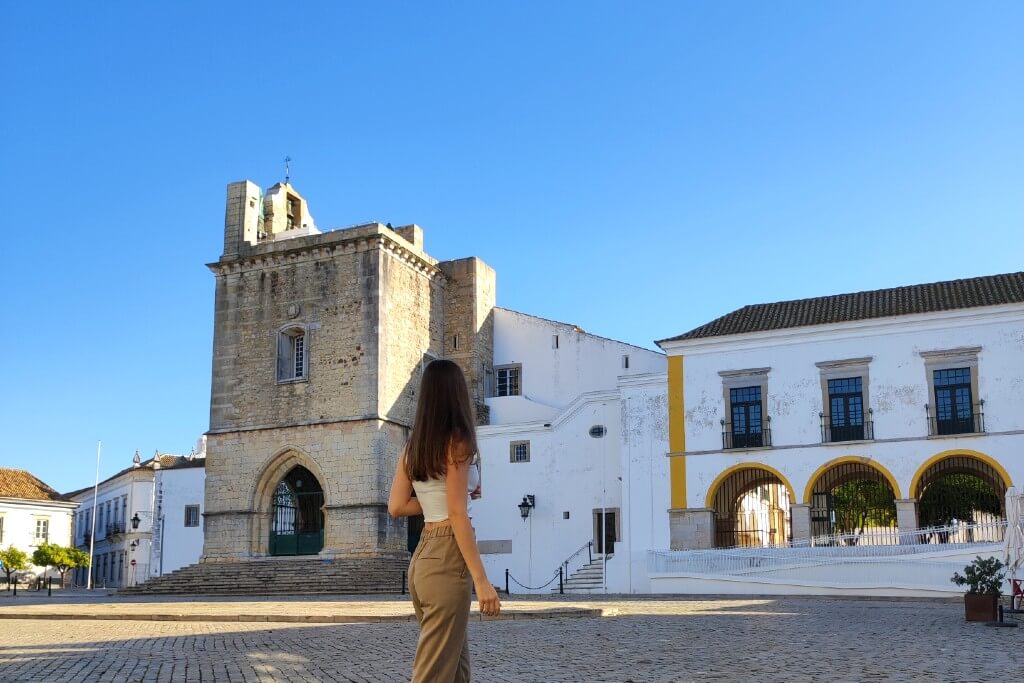 4. Igreja do Carmo and its bone chappel
Igreja do Carmo is an 18th-century Catholic church. It might not look like much from the outside, but the baroque interior is quite impressive!
You must also see the bone chapel of Igreja do Carmo. It is one of the most unique things to see in Faro. This small chapel was built entirely of bones and skulls of monks who used to live there.
Very creepy, but very interesting to see at the same time.
5. Spot the storks and their nests on the buildings
Did you know storks live in Algarve? You'll see their large nests on the buildings throughout the city center.
These birds are unexpectedly large and impressive to observe!
6. Take a photo with the Faro sign
You can't miss the large Faro sign as you walk around the marina. I find city signs like this amusing, as they make for a fun photo opportunity!
7. Stroll along the port and see Faro mermaid
Faro has its own version of the Copenhagen symbol – the little mermaid.
8. Find typical Portugese tiled buildings in the city center
While Faro can feel a bit rough at times, you can still find picturesque tiled buildings throughout the city center.
9. Watch the birds in Ria Formosa Natural Park
There are a few ways to visit this unique natural attraction close to Faro.
10. Swim on the sand island
The biggest downside to Faro, and a reason most people decide to skip it, is that it is not a beach town. Unlike other popular Algarve cities like Lagos or Albufeira, you can't just walk to the beach in Faro.
However, you can take a bus to the beach. In fact, it is the same bus as the one you took from the airport! Alternatively, you can rent a bike in Faro and cycle to the beach.
11. Have some delicious vegan food in Outro Lado
End your day with a delicious meal in Outro Lado, a fully vegan restaurant in Faro.
Outro Lado serves traditional Portuguese food in a vegan adaptation. It is a perfect opportunity to taste the local dishes and not miss out on this aspect of travel as a vegan.
Best day trips from Faro, Portugal by train or bus
If you have 2 days in Faro or more, you can add a couple of day trips to your Faro itinerary.
Faro has both a train station and a bus station. That makes taking day trips from Faro by train or bus super easy!
Local Vamus buses connect nearly every village and town on the Algarve coast and cost about 5€ in one direction on average.
The Algarve rail network runs from Lagos in the west to the Spanish border. It doesn't stop in all the cities, so I will note when it is a better option to take a bus.
12. Benagil Cave tour from Faro
If you're wondering how to get to Benagil cave from Faro by public transport, you won't like the answer. You need a car to get to the cave, as buses don't go all the way to the cave.
But don't despair, you can join an organized Benagil cave tour from Faro!
On this full-day organized tour, you get a private transfer to the Benagil beach and back, so you don't have to worry about public transport.
You'll be swimming in Benagil cave, visiting picturesque Praia da Marinha, and hiking on the most popular hiking trail in Algarve – 7 Hanging Valleys Trail.
You don't have to miss out on Benagil cave just because you don't have a car. This full-day tour is great value for a whole-day activity where you get to see the best of the Algarve coast!
Check the rates and availability for the Benagil cave tour from Faro here!
13. Day trip from Faro to Lagos
You can get to Lagos from Faro by bus or by train. Both stations are in the city center and the trip takes about the same time. Which one you'll go for depends on departure times and which one works better for you.
Lagos is best known for its incredible coastline and stunning beaches like Praia Dona Ana, so visiting some of them should be on your Lagos itinerary.
Stroll the city center of Lagos, admire tiled buildings, and see Lagos castle and old city walls.
A fun activity to try out is a kayak tour in Lagos, as you get to see all the beaches along the coastline and incredible rock formations, including the famous Ponta da Piedade.
14. Day trip from Faro to Sagres
Sagres is the westernmost town of the Algarve and a great place to visit to enjoy nature, swim on the stunning beaches, try out surfing and enjoy the sunset.
It is one of the best spots to watch the sunset in the Algarve, and everybody gathers on the cliffs behind the Sagres fortress as the sun goes down.
You'll have to take a bus to Sagres from Lagos, as there is no train going all the way there.
15. Day trip from Faro to Albufeira
Albufeira is the infamous party town of the Algarve, however, Albufeira is worth visiting for more than just its nightlife!
You'll find some of the best beaches in the Algarve right in the city center of Albufeira. Stroll the cobblestone streets of Albufeira city center and admire the views over the city.
The best way to get to Albufeira from Faro is by a local Vamus bus. There is a train stop named Albufeira, but it is about 6km outside of the city, so it is not very practical for a day trip.
16. Day trip from Faro to Tavira
Tavira is a riverside town in East Algarve. It is a great option for a day trip from Faro, as it is very close and the town is compact and walkable.
The main tourist attraction in Tavira is Tavira castle and the picturesque Tavira bridge.
Tavira is not a beach town, but you can take a boat from the city center to Tavira island, where you'll find a popular long sand beach.
You can take both train or a local bus from Faro to Tavira, depending on which departure times suit you better.
17. Day trip from Faro to Silves
Silves is the ancient capital of the Algarve, and a different Algarve day trip compared to the coastal towns. You'll find Silves in the hilly region of the central Algarve, situated next to the river.
The main tourist attraction in Silves is Silves Castle situated on top of the hill. The castle was first built at that spot in 201 BCE, but it was the Moors who expanded it in the Middle age. Today, it is one of the best preserved Moorish fortifications in Portugal.
The whole town is very charming, and you can spend hours just walking around cobblestone streets and admiring all the old castle buildings throughout the city.
The best way to get to Silves is to take a train from Faro but be aware that the train station is outside of the city, and you'll have to walk for approximately 15 minutes. The other option is to take the local bus.
Where to stay in Faro?
If you're backpacking Faro, stay close to the city center for the best experience. The city center is compact, and Faro is one of the best places to stay in Algarve without a car.
Best hotels in Faro
Lemon Tree Stay is the best place to stay in the city center of Faro. It is a cozy place, and so nicely decorated that you'd just wish to move there!
Faro Clara Suites are large bright suites in the city center. Everything is new and has everything you need for a short stay.
Book your accommodation as soon as possible if you're traveling in high season!
Best hostels in Faro
You'll be spoilt for choice with backpacker-friendly accommodation in Faro. The city has the most hostels to choose from out of all places in the Algarve.
As there is a lot of healthy competition, hostels in Faro are among the best hostels in Algarve!
When is the best time to visit Faro?
The most popular time to visit Faro, and Algarve in general, is in summer. The city is full of tourists, and there are plenty of activities to enjoy.
Algarve is one of the places in Europe with the most days of sunshine, so you could visit any time of the year and still have a good time.
The downside of backpacking Europe in winter is there will be fewer tourist activities available, some restaurants will be closed, and you can't swim.
How to get to Faro?
Faro has an international airport, so you can easily fly to Faro from many places around Europe.
If you're already in Portugal, you can take a train or a bus from most places around the country. A bus or a train from Lisbon to Faro takes about 3h.
Finally, if you are coming to Portugal after backpacking Andalucia, take a bus from Sevilla to Faro. A bus takes about 3h.
Check bus departure times and prices here!
How to get to Faro city center from Faro Airport?
You can either take a bus from Faro airport to the city center or book an airport transfer.
You can take line 14 or 16, they both stop in front of the Airport, just outside the arrivals terminal. The airport bus is cheap, takes you straight to the city center, and comes at least once an hour until midnight.
If you arrive late and have a lot of luggage, you can book a Faro airport transfer, so you don't have to wait for a bus.
How to get around Faro without a car?
Faro has great public transport connections within the city and the region, so you can easily incorporate it into your Algarve itinerary.
If you stay in the city center, you can see most attractions on foot.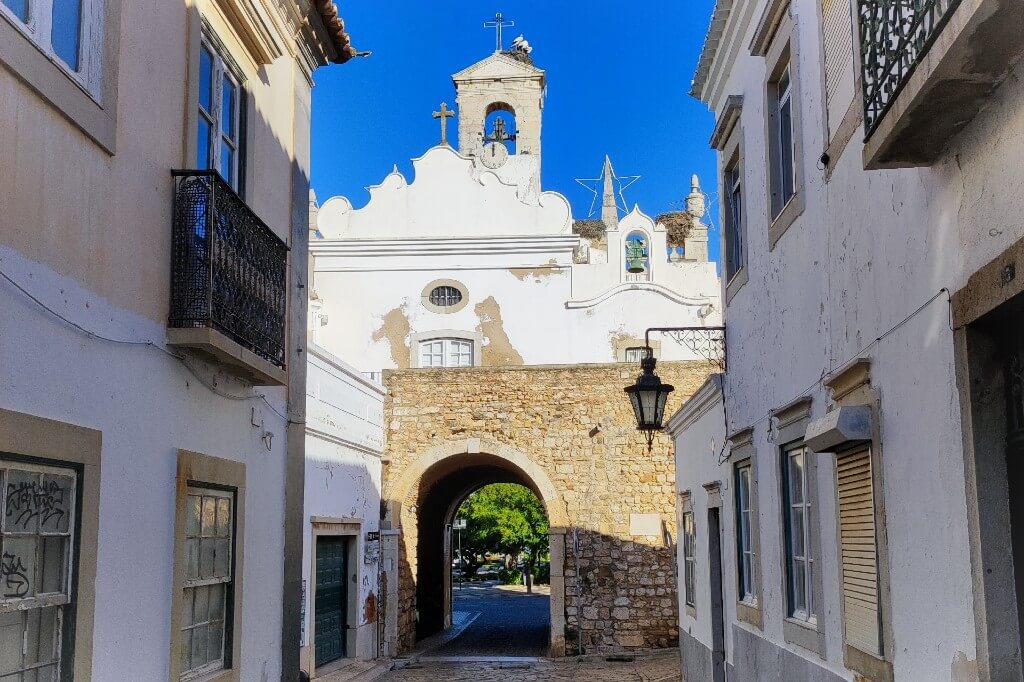 FAQ
Do you need a car in Faro?
No, you don't need a car in Faro. Faro has good public transport connections within the city and the region, as it has a train and a bus station. 
For places that are not easily accessible by public transport, like Benagil cave, you can easily join a Benagil cave tour from Faro with transportation included! 
Is Faro, Portugal worth visiting?
Yes, Faro is worth visiting if you are already coming to Algarve. Your Algarve flight will probably land in Faro, so spend at least one day in the city to see the main highlights. Faro is not a large city, and most tourist attractions are concentrated in the city center. 
How many days in Faro do you need?
Faro is a small town, and you can see all the main sights in Faro in one day. However, if you want to visit other tourist attractions around Faro, such as Ria Formosa Nature Park and Faro island, then 2 days or a weekend in Faro is a great idea.
Should you stay in Faro or Lagos?
Both Faro and Lagos have a wide variety of affordable accommodations for every type of traveler. Also, both cities are well connected by public transport for day trips in the region.
However, Lagos is within walking distance from the beach, so if you're visiting in summer, Lagos is a better option if you travel without a car. 
Summary: Best Things To Do In Faro Without A Car
And there you have it, all the best things to do in Faro, Portugal for your next trip!
As you can see, one day in Faro is enough to enjoy all the tourist attractions in Faro without a car. With 2 days in Faro, you can take a day trip to Ria Formosa or explore the less visited eastern Algarve.
Are you continuing your trip throughout the country? Check out my 7-day Portugal itinerary that covers all the must-hit spots in Portugal in a week!
If you enjoyed this backpacking Faro travel guide, save it for later or share it with friends who are traveling to Algarve this year!