The Best Algarve itinerary: 7 days Without a Car (2023)
Are you visiting Portugal and looking for the best one week in the Algarve itinerary? You came to the right place.
After travelling around Algarve without a car and making some mistakes along the way, I've devised an ideal "Algarve without a car itinerary" for a perfect week in Algarve.
You see, most itineraries I've seen before travelling to Algarve were road trip itineraries, and let me tell you, travelling by car and by public transport is vastly different!
But let me reassure you, Algarve is stunning, and you can backpack Algarve without a car – you just need to adjust your itinerary.
Renting a car as a solo female traveller greatly affects your budget, so travelling around the Algarve by public transport is the best way to save money. That way you can splurge on delicious food and activities along the way!
If you are ready to plan how to spend 7 days in Algarve, Portugal, keep on reading!
Disclaimer: This post may contain affiliate links, which means I may receive a commission, at no extra cost to you, if you make a purchase through a link. I hope you find the information here helpful!
Summary of 7-day itinerary: Algarve without a car
Here is an overview of our Algarve itinerary.
Day 1 – Arrive in Faro and discover the city
Day 2 – Beach day in Albufeira
Day 3 – Learn to surf in Albufeira or kayak to Benagil cave
Day 4 – Day trip to Portimao and Silves or Ferragudo from Albufeira
Day 5 – Explore Lagos
Day 6 – Day trip to Sagres from Lagos
Day 7 – Make your way back to Faro or continue your trip to Lisbon
You can also do this itinerary in reverse, starting from Lagos and ending in Faro if you're coming to the south from Lisbon and flying out of Faro Airport.
You will notice that you can't visit multiple places in one day if you are travelling by public transport as opposed to a road trip in Algarve. It's a downside of not having a car, but you get to spend more time in one place, and slow travel is the best.
Is Algarve worth the trip?
First things first, the short answer is yes! Algarve is a stunning coastal region with one of the most unique landscapes in southern Europe.
It is worth visiting the beaches in summer and appreciating nature and quiet coastal towns outside of the high season.
Planning a trip to Algarve? You might want to read this next!
FARO (1 night)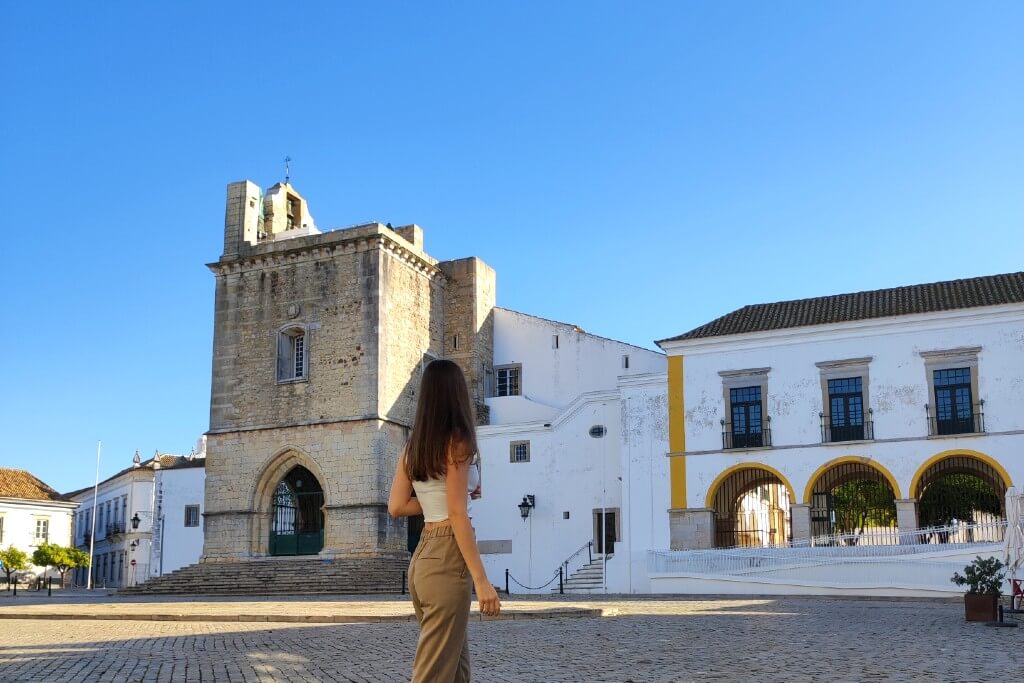 We start this itinerary in Faro, the capital of the Algarve. If you are flying to Algarve, Faro Airport is where you will probably fly into.
As I already mentioned, it is possible to do this itinerary in reverse if you are coming from Lisbon.
In Faro, I stayed in Happen!ng guesthouse. It was basic accommodation in a shared house, but the location was awesome. Right in the city centre, a short walk from the bus station – ideal for one night in Faro.
Alternatively, there are many hostels in Faro.
Casa de Madalena hostel in the city centre is highly-rated, and it would have been my second choice. I see it selling out quickly in high season, so book in advance!
Algarve itinerary Day 1: Faro
Most people skip Faro and go directly to the beaches of the Algarve.
However, Faro Old Town is a charming place to discover, and it is worth spending a couple of hours strolling its cobblestone streets instead of hopping on the first bus out.
Enter the Old Town through Arco da Vila, and if you're lucky, observe storks flying in and out of their nests on the top! Visit Igreja de Santa Maria, and walk around Largo de Se. Check out Arco do Repouso and the historic wall.
Grab lunch or dinner in the city centre. I went for vegan Indian food in Namastey, and it was delicious.
The area around the restaurant is the liveliest area for a drink, so end your day in Faro there!
Read next: Faro itinerary: Best things to do in Faro
ALBUFEIRA (3 nights)
Take a bus from Faro to Albufeira, there are many daily departures, and a bus ticket costs around 5€.
You will base yourself in Albufeira for the next three nights. Albufeira is a lively town – best known for its summer nightlife.
However, the beaches of Albufeira are stunning, and the city is ideally located for day trips in the region.
I backpacked Algarve in November, and surprisingly (or not), most hostels were closed for winter.
Therefore, I stayed in Luna Solaqua Aparthotel, and I highly recommend it. As I travelled off-season it cost only 40€ per night, and I shared a room, so I paid only 20€ per night. It was a great deal for a studio apartment in a hotel with 2 pools!
For a hostel option, I look for all hostels in Albufeira here and pay attention to the atmosphere rating.
Algarve itinerary Day 2: Albufeira
Start your first day in Albufeira by getting acquainted with the city.
The best viewpoint in Albufeira (and sunset spot) is Miradouro do Pau da Bandeira. Walk along the coastline to Miradouro Rossio for a different perspective.
Make your way to Albufeira's Old town and get lost in narrow cobblestone streets. Albufeira Old Town is small and walkable. Admire the whitewashed houses and the architecture reminiscent of the Cycladic islands.
Outubro street is the main walking street in Albufeira, but you will also find many bars and restaurants around Largo Engenheiro Duarte Pacheco square.
Spend the afternoon on the beach! I went in for a dip on the beach next to Peneco Rock, but all beaches in Albufeira looked great (if you like long sandy beaches), so you can go for the one close to your accommodation as well!
You can't come all the way to Albufeira and not enjoy the nightlife! Depending on how you want to spend the next day, go for a drink on the Albufeira strip or in the city centre, you can't go wrong with either of them.
The Albufeira strip is known for wild nightlife that goes on long until the morning. I found it interesting that there were many karaoke and sports bars, so that appears to be the vibe.
Algarve itinerary Day 3: Albufeira to Benagil Cave or Surfing class
On your second day in Albufeira, you will enjoy some water activities.
However, depending on how much fun you had last night on the Albufeira strip, it might be just laying on the beach kind of day. It is essential to maintain balance when you're backpacking and not overcrowd your schedule.
There are many Benagil cave tours available, as it is one of the most popular activities in the region.
I suggest you book a Kayak tour to explore the Benagil cave because if you take a boat tour, you won't be able to disembark inside the cave.
Albufeira is a great place to learn how to surf! Book a beginner's surfing class here! This class is on Falesia beach, and you can take bus 8 from Albufeira to the beach.
If the weather is not on your side, and a beach day is not an option, you should do one of the day trips from Day 4 – Silves and Ferragudo.
Algarve itinerary Day 4: Albufeira to Portimao and Silves or Ferragudo
Start your fourth day in Algarve bright and early as you will go on a day trip from Albufeira and catch a bus to Portimao.
The best way to get from Albufeira to Portimao is by bus. A bus takes just over an hour and costs 5,10€.
Portimao is another popular resort town, but we're not going to the beach today (unless you want to) instead, we will explore the city.
You only need a few hours in Portimao to visit Igreja de Nossa Senhora da Conceição, Convento do Colégio dos Jesuitas and walk around the city centre.
Grab lunch in Cozinha de Sonia – absolutely delicious vegan Indian food!
After lunch, take a 15-minute train from Portimao to Silves – the ticket costs around 1.20€.
Silves is a historic town that was originally the ancient capital of the Algarve. Hence, it is different from other coastal towns you've visited on this trip so far!
The highlight of Silves is the Moorish-style hilltop castle, Silves Cathedral and Portas da Cidade de Silves. However, the whole town is a charming place to explore for an afternoon.
A bus back to Albufeira from Silves takes about an hour and costs around 5€.
An alternative to Silves is the picturesque fishing village of Ferragudo.
You can take a quick taxi boat from Portimao to Ferragudo and spend the afternoon strolling the cobblestone streets of this quiet fishing village.
Due to a lack of planning on my side and dependence on public transport on the other side, I didn't manage to visit Ferragudo this time around. However, it was highly recommended – it looks like a greek island village, and I can only suggest you add it to your itinerary!
LAGOS (2 nights)
To make it easier to discover the westernmost part of the Algarve, you will move to Lagos for the final 2 days of this itinerary.
Take an early morning bus from Albufeira to Lagos to make the most of your day in Lagos. A bus ticket will cost you around 6€.
You can choose between surprisingly many hostels in Lagos. I say surprisingly, as I found Lagos to be VERY quiet in November – can't speak about summer.
Cloud9 hostel is located right in the city centre and is highly rated as a social hostel.
And if you read my Hostel guide for beginners, you know that is my favourite type of hostel.
Algarve itinerary Day 5: Lagos
Just like most other cities in the Algarve, Lagos is hilly. So put on comfortable shoes, as today you will have a fun day admiring the exceptional beauty of Lagos coastline.
However, this walled city with large pedestrian zones is perfect to stroll around and enjoy the coastal town atmosphere.
Check out the Igreja de Santa Maria de Lagos, Castle of Lagos and the seafront Forte da Ponta da Bandeira.
And then, make your way to the coast. You will "hike" along the coastline from the city centre to Ponta da Piedade.
You will walk part of the road on the trail and part on the newly built wooden path. The view is incredible, and the best part is that you can walk down to the beach anytime you feel like it!
Ideally, I would have added the 7 Hanging Valleys hike to this itinerary, but it is very complicated to reach without a car. So, Lagos to Ponta da Piedade hike is a perfect substitute if you're backpacking Algarve without a car!
How about admiring Lagos coastline from a different perspective by joining a Kayak tour from Lagos to Ponta da Piedade and sea caves?
Initially, I wasn't very keen on kayaking in November, and then it was too late to book on the spot when I was in Lagos as the best kayak tours in Lagos sell out quickly, so make sure you book online beforehand!
Algarve itinerary Day 6: Lagos to Sagres day trip
Sagres is the westernmost town in the Algarve. It faces the open sea, so you know that I will suggest you stay for the sunset – it will be the best one of this trip!
Take a morning bus from Lagos to Sagres, it takes about an hour and costs around 4.5€.
If you visit in the summer, you can even take a bus to the official westernmost point of continental Europe – Cabo de São Vicente. In the winter, the bus schedule is not day-trip friendly.
Alternatively – if you feel sporty, rent an (electric) bike in Sagres and bike to Cabo de São Vicente. You can rent a bike at Sagres Bicycle and Company.
There is not much to see in Sagres in terms of tourist attractions. You can walk around the city, but the best thing to do in Sagres is to enjoy nature.
Sagres is a popular surfing destination, so you will see surfers everywhere. Swim in the crystal clear sea, or hike along the stunning cliffs.
Grab lunch at Three Little Birds bar. I loved their vegan burger in a sweet potato bread bun. It is on the pricey side for the Algarve, but the portions are generous, and the food is delicious!
As the sunset approaches, make your way to the Sagres Fortress at the top of the peninsula. It is the best spot to watch the sunset in Sagres.
You must buy a ticket to pass through the fortress – check the price and opening hours on their official website.
Bring a light jacket even if it's summer, as it tends to get windy and cold as the sunset approaches.
Algarve itinerary Day 7: Back to Faro or Lisbon
The last day of this Algarve itinerary is predominantly a travel day.
Depending on when you're flying back home or continuing your Portuguese adventure in the north, you might squeeze in some more sightseeing or a quick dip in Lagos.
How many days do you need in Algarve, Portugal?
You could spend an entire month exploring hidden beaches along the Portuguese coast, but 7 days is enough to see the best of the Algarve.
With this time, you get to stay in 2-3 places and visit a couple of others on a day trip – this is an important factor if you don't have a car.
You could spend 3-5 days in Algarve, but then you should focus on either Albufeira or Lagos region, as it is too cramped without a car.
Is a car necessary in Algarve?
Contrary to what many people say online, a car is not necessary for Algarve. You can discover the region by public transport – you just need a little bit more planning and following the proper itinerary!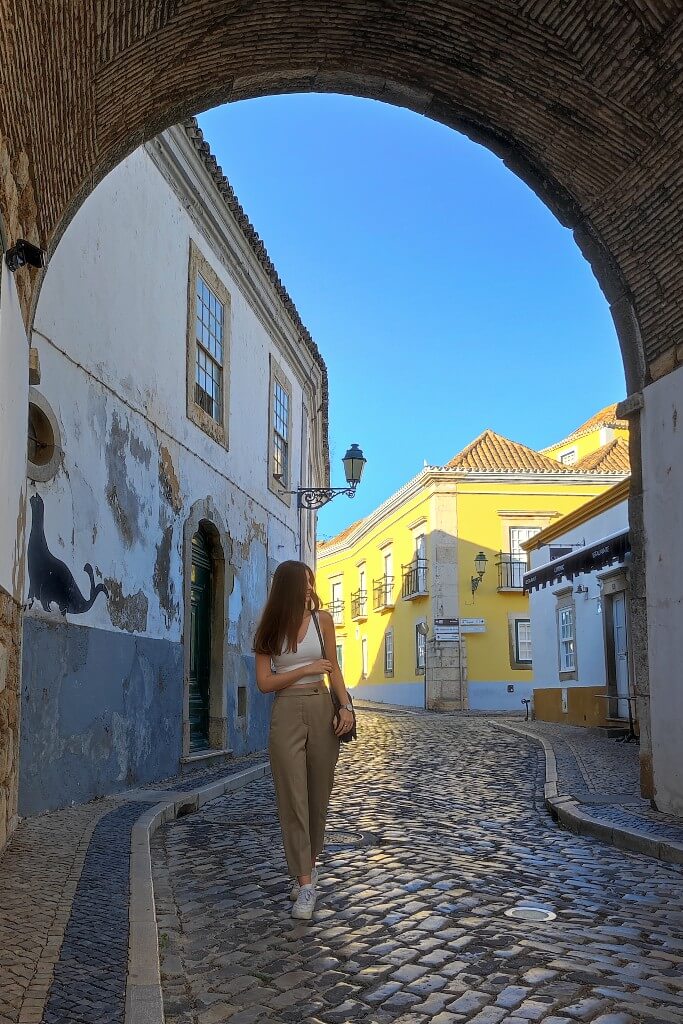 How to get around the Algarve cities by public transport?
Algarve has an excellent public transport network, including regional and local buses and trains!
Travel in Algarve by bus
A regional bus is my number one suggestion for travel around Algarve. You can choose between multiple daily departures from big cities like Faro, Albufeira, Portimao and Lagos.
Pros of travelling by regional bus in the Algarve:
It's affordable. Ticket prices don't change regardless of when you book, and you can buy tickets on the bus!
The bus stations are in the city centre.
Almost every town is within the bus network.
Cons of travelling by regional bus in the Algarve:
The bus schedule is not published online on official web pages!
You can only pay by cash when you buy tickets on the bus.
Most connections to smaller towns are few and far in between.
In high season, there is a high chance you will stand in the bus as they get busy.
This website will be your best friend as you plan your Algarve by public transport itinerary. It does what the official websites should have done and gives you bus schedules and tips for all regional buses and trains!
Travel in Algarve by train
Algarve coastal train is another great way to travel between the cities in the region.
Pros of travelling by train in the Algarve
It is cheap! Regional train tickets are very affordable, and the price doesn't change.
It is comfortable. There is more space than in a bus!
Cons of travelling by train in the Algarve
The train network doesn't connect most coastal cities.
Most train stations are nowhere near the city centre. Albufeira train station is 6km outside of the city!
Local buses in Algarve
In addition to regional buses and trains, there are also local buses in bigger cities. You will find regular local buses in most towns, such as Albufeira, Faro and Lagos.
Local bus tickets are usually inexpensive, so expect to pay around 1€ per ride.
They are a lifesaver if your accommodation is far from the city centre or bus station. Did I already tell you that most towns in Algarve are very hilly?
Read more: In-depth guide on How to get around Algarve, Portugal – without a car?
How to incorporate this backpacking Algarve itinerary into your Portugal itinerary?
If you are backpacking through Portugal, you can easily incorporate Algarve at the beginning or the end of your trip.
In my backpacking Portugal itinerary, I started with Algarve and made my way up north. I travelled in November and wanted to take advantage of the warmer weather in the south and enjoy the beaches.
If you are travelling in September, October or November, that is the route I recommend.
On the other hand, if you are travelling in March, April or May, I would start from Porto in the north and make my way down to Algarve.
Best Algarve cities to add to your 7-day Algarve itinerary
This itinerary is based on my trip and how I spent 7 days in Algarve without a car. You can easily spend more time, or see more cities, especially if you rent a car.
Here are the best Algarve cities and some suggestions on how to adapt this itinerary.
Faro – is the capital of the Algarve and a great base to explore the eastern Algarve. You can add Ria Formosa Natural Park and the charming town of Tavira to your itinerary.
Albufeira – is best known for its nightlife, and we use it as a base in this itinerary.
Carvoeiro – is an alternative to Albufeira. It is a little bit more complicated to travel from, as you have to transfer in Lagoa, but it is close to some stunning beaches, and the Carvoeiro boardwalk is a great
Silves – is the ancient capital of the Algarve. It is a unique city in Algarve with a hilltop castle.
Ferragudo – is a charming, quiet fishing village. Great for a day trip or a calm holiday.
Lagos – is a fantastic place for beaches and a great base for the western Algarve.
Sagres – is best known as a surfing town. If you want to spend your holiday surfing, that is where you should base yourself.
Final thoughts on the Algarve itinerary: 7 days without a car
And there you have it, a complete 7-day itinerary: Algarve by public transport. It includes beach days, water activities, hikes and picturesque towns.
As you can see, you don't need a car to visit Algarve. Public transport is cheap, and you can book day trips with transfers for places that are not accessible by public transport.
Do you want to discover more of Portugal? Check out my 7 days in Portugal without a car itinerary!
If you liked this article, let me know in the comments, and save it to consult for planning your Algarve itinerary!