How To Plan Your First Backpacking Trip? Solo Female Travel
Are you wondering how to plan your first backpacking trip as a solo female traveler? I've got you covered!
I have traveled as a solo female traveler to numerous countries for over 7 years now, and I know it takes a lot of courage to finally book your first solo trip.
In fact, it took me years to accumulate the courage to book a ticket for my first solo trip! I did not even know where to start to plan my first solo backpacking trip.
I remember reading blog posts that simply said: "Just do it". But I had a lot of questions, and I could not just do it.
I know you probably feel the same and I am here to help!
We have all been there, and I will share everything I wanted to know before my first solo female backpacking trip.
This ultimate guide for solo female travel preparation is divided into two sections. The first part is the things to do before you embark on your travels, and the second part is what you should keep in mind while on your trip.
Disclaimer: This post may contain affiliate links, which means I may receive a commission, at no extra cost to you, if you make a purchase through a link. I hope you find the information here helpful!
Before you go for your first solo female trip:
Decide Where To Go On Your First Solo Trip
The first thing you will have to decide on when planning your first solo female trip is where you want to go. You can choose any place you want to visit. However, some destinations will be easier to navigate as a first-time solo traveller.
I suggest two options as a first-time female solo traveller. You can stay close to home or go to one of the most popular backpacking destinations.
Go local or stay close to home
Your first option would be to start small. You start somewhere close and build confidence for longer trips and farther destinations.
You can start as small as your hometown. Look up what tourists usually do there and go for a walk. Visit your hometown with different eyes, take photos and ask people to take pictures of you.
Depending on how big your town is, it might be uncomfortable to do it as you might run into people you know. In that case, go to the next one!
For my first trial solo trip, I went from my student town Leuven to the capital of Belgium, Brussels. I even asked other tourists to take photos of me! It might sound frivolous to somebody who is naturally extroverted. To all my introverts, you know what it feels like!
My first real solo female travel trip was to Poland. I have an in-depth guide on backpacking Poland where I explain why I picked that country if you want to read my reasoning behind choosing a country close to home for my first solo backpacking trip.
Go to the most popular backpacking destination.
When you are ready to fully immerse yourself in the solo backpacking world, the best thing is to go to one of the most popular backpacking destinations.
For me, that was Thailand.
Many people I met on that trip were on their first solo backpacking trip! It is a country that is easy to navigate, despite it being a completely different culture super far away from Europe. (Which is where I am from, and I am writing from my perspective as a European).
If you want to visit Europe for your first solo backpacking trip, check out my guide on everything you need to know before you travel to Europe in the summer.
If you decide to visit one of the top backpacking destinations, you are almost guaranteed to have a good backpacking trip.
Why?
Because there is already a whole infrastructure built based on the solo backpacker type of traveller.
There are plenty of hostels where you can stay and meet other people. Social life is based around hostels, which usually organise day trips where you get to meet other travellers. They organise nights out, and they will even arrange your transportation.
Once you know where you want to go, it is time to start creating a travel itinerary. What experiences do you want to add to it?
Start Saving Money
How much money should you have for your trip?
I can not stress this enough, you will need money to fund your travels. As a solo female backpacker, I prefer to be on the safe side. To be safe means that I have enough money saved up for a trip and an emergency fund that can be easily accessed.
When you have decided on your destination, you should check the transportation price to get there. The next thing you should do is look up a suggested daily budget for that destination. Multiply the expected daily budget by the number of days you plan to spend at your destination. That is the minimum amount you should aim at having before embarking on your solo backpacking trip.
That is the minimum that you should have. However, if you want to feel safe, you should aim at having at least 30% more available, just in case! Enough money makes you independent. Solo female travel is empowering, but you will be able to make safer choices if you are not worried that you will run out of money.
Also, keep in mind that you will have to get some things before your trip! If you do not have a backpack, you will have to buy or borrow one. Maybe you will want to get some new travel outfits as well! Those before-the-trip essentials also add up! Budget for them as well.
How to save money for your first solo trip?
There are a lot of ways to save money for your trip. The first step is to switch your mindset to saving mode. Start by setting yourself a small saving goal. Divide things in your life into necessities and luxuries. Everything that goes into the luxury section should be limited while you work on your savings goal. When you think of that second cocktail on Friday night as a day in SE Asia, it gets much easier to do it!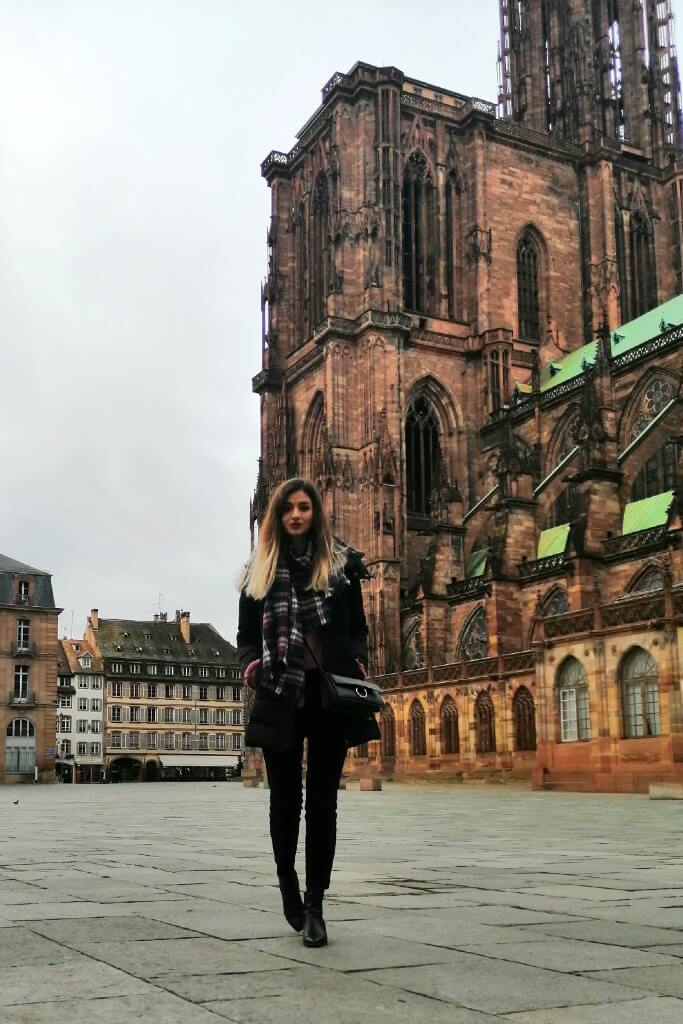 What To Pack For Your First Solo Trip
Now you have your destination and your budget for the trip sorted out. You set up your savings goal, you are saving for your trip, or you already have all the funds you will need. The next step is to figure out what will you need to bring with you.
Bring all the essential documents.
Firstly, you will have to bring all the essential documents with you. Also, you will need to keep an eye on them throughout your whole trip. You are alone, nobody will remind you to check if you took your passport.
Be sure to check all the entry requirements for your destination. These days, entry requirements change daily. Some countries open up, and others restrict entry. Check that you have a visa if you need one and all the necessary vaccination if your destination asks for them.
Get your insurance!
There is no easy way around this. Accidents happen. You do not want your accident to happen when you are in a foreign country without insurance. Especially on your first solo female travel. These days, some countries ask for proof of insurance to let you in the country, to begin with.
Do thorough research on the best insurance company in your country and the type of trip.
Take your electronics.
Make sure that you have your chargers for your phone and camera if you will be taking them. A phone will probably be enough to take photos, but take your camera if you are an avid photographer.
Take an external charger or two! Your electronics will run out of battery, and you will wish you had them with you.
Pack a tripod/selfie stick for your photos.
All of the photos on this post were taken by myself with my tripod!
If you are not going to be working on your trip, I do not think you will need your computer.
Pack weather and culture-appropriate clothing.
Depending on where you are going to go, you will need a different type of clothing. Check the weather and pack accordingly. Do not overpack. In my experience, you will need the same amount of clothes whether you are going on a 2-week or 2-month trip. Take advantage of the washing machines.
A general rule I follow when I pack clothes for my solo backpacking trips is this:
Enough underwear and socks for every day of my trip.
If my trip is longer than two weeks, I stop on 10-14 pairs, because after two weeks I will be doing my laundry.
2 bralettes.
I pack one black and one nude bralette. I only pack a sports bra if I know I will be doing something active.
2-3 bottoms that can easily match my tops.
Depending on the season, this is usually 2 pairs of pants and 1 skirt.
If I am travelling in the summer, I will take a pair of shorts, a skirt and a pair of long wide pants.
If it is winter, it will be just 2 pairs of jeans, black skinny and blue mom-style jeans.
I will usually travel in sports leggings, so that is an additional pair of bottoms.
Enough tops that I can change every day.
The number of tops I take depends on whether I am travelling in the summer or the winter.
In the summer, I will usually take some dresses, so I will not need that many tops.
In the winter, I will usually take 2-3 jumpers, but I will also pack double the short sleeve shirts or thermals to wear underneath them. That way, my jumpers stay fresh longer, and I change those thinner pieces of clothing underneath them every day.
2 dresses for summer.
If I travel in the summer, I will pack 2-3 summer dresses. Two will be everyday dresses, and one will be my fancy dress.
Sometimes I will pack a dress for the winter travels too. It will be my "nice outfit". I can not be asked to explore and freeze in the European winters wearing a dress and tights.
2 pairs of shoes + flip-flops for hostels.
I do not think you will need more than two pairs of shoes.
If I am travelling in the winter, I take a pair of boots that I will be wearing when travelling, and sneakers. Not necessarily running shoes, I will take a nice pair o sneakers that can be dressed up or down. However, for up to a three-day trip, I would stick to just one pair.
In the summer, I take sandals instead of boots and still the same sneakers.
If you stay in hostels, you will want to pack flip-flops. Just trust me. You do not want to walk barefoot. FLip-flops are useful if you want to go to the beach, and they take up no space!
A "nice" outfit.
I did not take a nice outfit when I was backpacking the Cyclades in Greece and I regretted it. I felt super underdressed when I went out for dinners in Santorini. At the same time, I never felt underdressed when backpacking Thailand! Research your destination and figure out whether you will need a nice outfit.
Pyjamas.
Do not forget to pack something to sleep in, especially if you will be sleeping in dorms!
Also, keep in mind the culture of the place you are going to. My packing list differed from when I went to Thailand from when I went to Morocco.
Keep your skincare and hair care routine minimal!
Unfortunately, you should not take your entire cosmetics cabinet backpacking with you. When it comes to skincare and haircare, less is better! Figure out what are your essentials and take only them!
SPF is a must! Don't forget that, especially as it can be much more expensive in some countries that you might visit.
There is no need to pack your hair styling tools. Check out my article on the best backpacking hairstyles for travel hairstyling ideas!
What kind of backpack to take for your solo trip?
I can usually fit all of my summer things for a 1 week trip in a Ryanair "personal item" sized backpack.
If I want my things to fit that backpack in the winter, I can not take any additional shoes and usually have to make do with one chunky jumper that I wear on a plane. I know not all of us can fit clothes for a week in the free luggage-sized bag, but that is ok. There is no reason to feel bad about it. My advice is to minimise the number of clothing items you bring with you, as you will probably not need as much as you think you will!
For a longer trip, I take my 40l or 50l backpack. The 40l can usually pass as a carry-on, while the 55l one should theoretically be checked-in.
I do not travel with a suitcase unless I am going on a short trip where I will be staying at the same place.
I find suitcases to be hard to travel with if you are moving around.
Make sure that you can carry your bags.
You might not be a minimalist packer like me, but please make sure that you can carry your bags. There is nothing worse than not being able to navigate the world with your luggage because it is too heavy or too bulky.
Transportation to your destination
You will have to figure out the best way to get to your destination. Some places are only accessible by planes while you can take trains and busses to others.
Research the best, cheapest, and most sustainable way to reach your destination on your first solo female travel.
Figure out if you value comfort more than price. If you are traveling alone, you might find it easier to take one flight instead of multiple trains or buses.
Make sure that you do not have to change your transportation in the middle of the night.
Or that you do not have to wait overnight if you have to take a different mode of transportation to your final destination.
I looked at the flight recently that was landing too late for me to catch the last train of the day to my final destination. I would have to spend 6 hours at the train station to take the first train at 4 am. 30€ savings was not worth it, and I am an experienced solo traveler.
While you are on your first solo female trip
Getting around your destination
You finally reached your destination! Great, but now what?
If you are travelling by plane, the first thing you will have to figure out is how to leave the airport and get to the city centre and your accommodation.
I will usually check the airport website. They suggest different transportation options, including public transport.
If you want to be more comfortable, check the taxi rates before you are at your destination. Check how much the usual price is for a taxi ride, so you are not being scammed at the airport.
If you are travelling by train or bus, the same rules apply. Check on Google maps beforehand how to get to your accommodation.
The benefit of figuring out the public transportation before you are at your destination is you will know what kind of ticket you will need and how much they cost.
Also, it is complicated trying to figure these things out if you do not have mobile data at your destination.
Accommodation for your first solo female travel
Where To Stay When Solo Traveling
Where you want to stay will depend on the type of your trip. If you are backpacking, that will probably be a hostel. If you are on a more luxurious trip, it will be a hotel or Airbnb.
Before you leave for your trip, do some research on accommodation options for your destination. I like to have the first few nights booked, even on trips when I want to be spontaneous.
It is good to bookmark some of the most recommended and highest-rated hostels. That way you are not wasting time trying to figure that out once you are at your destination.
If it is your first time staying in a hostel alone, you might want to book a female dorm. You will be sharing a room with other women, and it can be a gentle way to ease into hostel life.
Hostels can be loud and intimidating, so you can start by sharing a room with other women, or picking a room with fewer beds.
I do not usually go for female dorm rooms, because they tend to be more expensive. However, sometimes I just want to sleep in my room, and I know that the easiest way to achieve that in a hostel is by choosing female dorm rooms or a 4-bed dorm.
Where in the city to stay?
I will always suggest staying in the city centre for solo female travellers since that is usually where most of the attractions are. You will be close to everything and my personal favourite reason to choose the city centre, you will not have to wonder how to get home at night.
As a solo female traveller, I like to do my best to stay safe. Most of the hostels are usually located in the city centre anyways. You might be tempted to choose cheaper accommodation outside of the city centre but then you will have to factor in the transportation price that you will have to pay.
I never found it worth it to stay in a residential area away from the main events when travelling solo.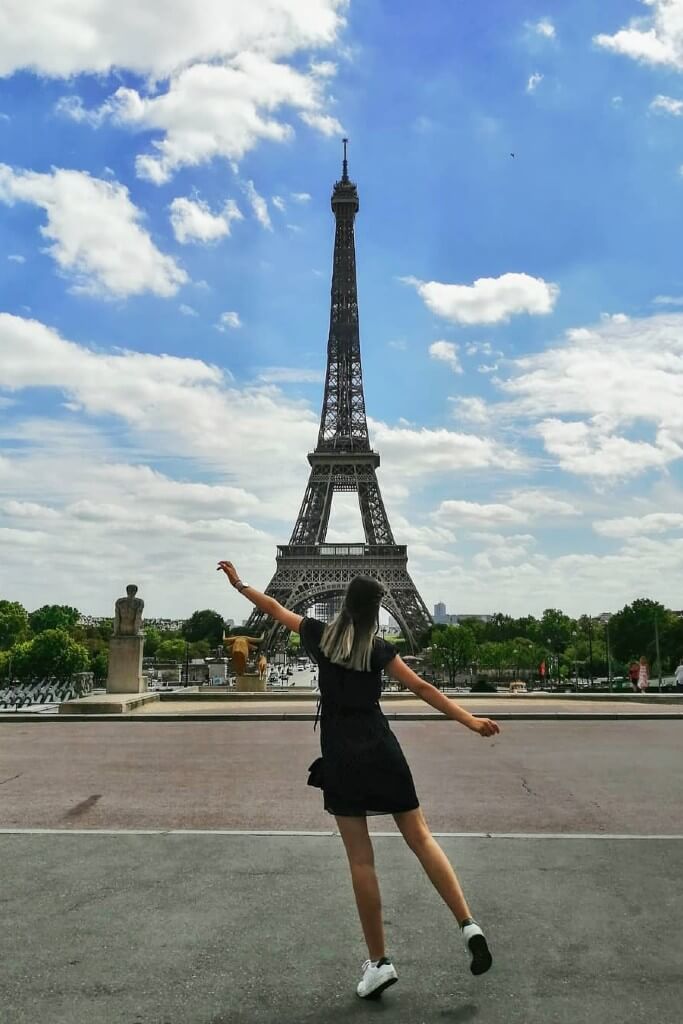 How to make friends on your first solo trip
Even though you are travelling solo, you might want to make some friends on your trip. How can you meet people and make friends will depend on what kind of trip you are taking.
Stay in hostels.
If you are a solo female backpacker and stay in hostels, it should not be too hard to make friends in hostels. If your hostel has a communal area, try to hang out there and start talking to people.
Join group tours and free walking tours.
You know I love free walking tours. They are a great way to get introduced to a new city. They are also a great place to meet people! You will spend the next few hours together, so why not make a friend?
Join online travel groups.
There are a lot of Facebook travel groups these days. You can join some and ask if somebody will be at the same destination as you at the same time!
Traveling As A Vegan
If you are vegan like me, be prepared that it might be more challenging to find vegan food. Some destinations are known as vegan paradises, while others do not even know what vegan means. I have a whole post on travelling as a vegan, but here are some of the main things to think about.
Check the vegan culture in your destination, and be prepared for what you will find there.
Write down the words for animal-based products in the local language.
Download the HappyCow app and bookmark some places that you see there.
Just in case, take snacks from home. I always take a couple of emergency energy bars.
Safety on your solo female travel.
In this section, I will point out some things that I know you already know.
However, it is good to think of them before going on your solo trip.
Stay cautious, smart and alert.
This part is not meant to scare you. I know you are staying safe at home, and that is all I am suggesting here.
Do not do things you would not do at home. Some people think that rules do not apply once they are abroad, but they do.
If you do not know how to ride a scooter, do not rent a scooter.
You would not drink and drive at home, do not do that when travelling.
You would not tell where you live to a suspicious person asking you that at a bar at home, do not tell that to a random guy abroad either.
If you would not take a drink from a stranger that you did not see where it comes from at home, the same applies to travelling.
If you would not leave your things unattended at home, do not do that abroad.
It is really just common sense.
We can not control everything, but we can at least be smart and do the best we can about what we can control.
I have a whole blog post on how to enjoy nightlife and parties as a solo female traveller, so check it out for more detailed information!
Let people at home know where you are at all times.
I am not saying that you should get a location app to notify your family of your every move. Also, I am not saying that you should call your mom every day. Although, she would probably appreciate that.
Before you go, set some "check-in" rules with your friends and family.
What I mean by this is that if you are going to be unreachable, just tell people you are going somewhere where there will be no connection. When I took a slow boat from Thailand to Laos, I did not have internet for 2 days. I let my family know that I would not be available for two days, so nobody panicked.
Solo female travel is empowering. You are away from home, but you do not want your family reporting you as missing while you are enjoying some time unplugging and being perfectly safe.
Sending a message to a reliable friend letting them know your location every couple of days is a responsible thing to do. You do not have to be dramatic and disappear from everybody.
Mindset – Prepare as if you are going to be alone all the time.
This is more of a mindset preparation. You should be mentally prepared to be alone and that you are the one responsible for yourself. It is not as scary as it sounds, and chances are you will not be alone most of the time. But, you should be prepared as if you will.
Know all the basics of the country you are visiting. Know the currency, where can you exchange money and if the ATMs are widely available.
Download offline maps and write down the address of your accommodation. Have the route to your accommodation already figured out before you leave for your trip?
It is not embarrassing to be solo, you are always solo in your town, and you see people out and about by themselves everywhere. You will have some meals alone, and nobody will judge you. You might take some tripod photos, do not let other people stop you from getting the best shot!
Everybody is living their lives, worrying about themselves, and you are living your best life!
Summary: How to plan your first backpacking trip?
And that is it, girls! This is my "Ultimate guide to solo female travel" to be fully prepared to plan your first solo trip.
Where are you going for your first solo backpacking trip? If you're backpacking Europe, you need to know where is the best place to start backpacking through Europe!
Do you have some more ideas on what you should do before you embark on your first solo travel? Leave your suggestions in the comments, and let's help each other out!
If you liked this article, let me know in the comments and share it with your friends.